History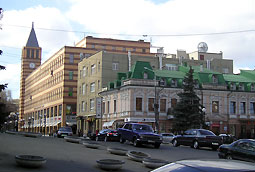 "HydroTech Engineering" Co Ltd, founded in 1998, is one of the leading companies in engineering and water treatment equipment manufacturing in the CIS states.
The Company's main focus is on the solution of processing water preparation problems. This includes: the production of drinking water, industrial waste water treatment, closed cycles of water supplies and the production of cooling circuits.
1998 - Year of foundation and commencement of operations. The Company becomes a vendor of chemical products supplies, including sales of resins and components for water treatment equipment. Small scale engineering.
1999 - The Company begins operations in the engineering field of ion-exchange systems.
2000 – The Company gains recognition and enters the international group of partner companies situated in Great Britain and Finland.
2001 - The Company moves into two new directions: 1. Chemical water treatment. 2. Mechanical filtration with automatic self-cleaning filters.
2002 - Branch Offices are opened in Kyiv and Donetsk in Ukraine. Development of a new and exciting venture - Membrane Technology.
2003 – The Company develops its own water treatment equipment assembly operation. Production of the first reverse osmosis equipment HT-RO. Registration of technical data specifications.
2004 – Opening of Automated Technological Process Control System area. Production of the first complex water treatment system.
2006 - Creation of the Company's own construction department. The creation and launching of "Techno Chem Reagent" Co Ltd as a manufacturer of chemicals for the solution of complex problems involved with the water treatment process.
2007 – Awarded ISO Certificate #9000:2001. Production of the first ultrafiltration plant HT-UF. Opening a new facility in Alchevsk with equipment, materials and stock.
2008 - The Company secures a contract for a seawater desalination plant in Turkey.
2009 - The first EPC contract. The Company's role is main contractor. Our equipment processes and produces 215,694 m3 of clean water every day.
2010 - The Company earns recognition and entry into The International Water Association IWA.