Power Industry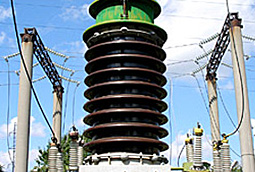 Presently, equipment supplied to WTP gas-turbine stations consists of three power units with a capacity of 150 MW (Alchevsk, Luhansk region) based on cooperative designs with CI Energoproject.
The equipment includes: an ultra-filtration plant with 640 m3/h capacity, a reverse osmosis plant with 540 m3/h capacity (for loading and makeup of the steam boilers' open cooling circuits), and an EDI unit with 27 m3/h capacity (for loading and makeup of the steam boilers' closed cooling circuits).
Most Ukrainian thermal power stations (Prydniprovsk, Kryvyi Rih, Zaporizhzhya, Zuyevska, Slavonian, Kurakhovo, Luhansk, Kalush, Kiyiv, and Kherson) and nuclear power stations (Khmelnytsky, Zaporizhzhya, and South-Ukraine) have received a new supply and replacement of old ionic filtering materials, modernization of their water treatment by-product recovery departments, and have implemented the use of modern ion exchange technologies.
Company specialists set up the chemical stabilization treatment of cooling circuits (application of corrosion inhibitors to prevent scale formation, biocide treatment) and boiler chemistry conditions (dosing and conservation) using complex dispersant chemicals employed to neutralize film-forming amines and for absorbed deoxygenation.
Recently, cogenerating plants have been built to provide electricity and heat power to small regional areas; these operations can be fuelled with gas, coal, wood, straw or plant waste products. The company has constructed water treatment plants based on reverse osmosis for similar cogenerating plants in Belarus and Russia.