Private Sector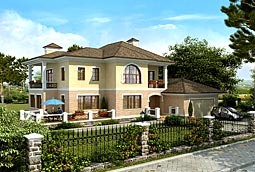 The private sector does not always have access to a central water pipeline. "HydroTech Engineering" Co Ltd offers an independent water supply for your properties.
Modern purification technologies, efficient chemical treatment and our specialists' expertise guarantee you get the best available solution for creating your own domestic water treatment plant.
Equipment and process diagrams are developed individually according to your property's specifications:
Sourced from surface water (rivers, ponds, etc.)
| | |
| --- | --- |
| | Possibility of drilling wells; |
| | Productivity; |
| | Epidemiological safety; |
| | Organoleptic, physico-chemical and sanitary toxicological parameters. |
The double-pipe system of supplying water is becoming even more popular in private estates and residential complexes. This layout is economically viable. It enables the optimization of waste generation and materials cost. Water satisfying the requirements of State Sanitary Regulations and Standards ("Hygienic requirements to drinking water used for human consumption", 2.2.4-171-10) is supplied to one pipeline. Household needs are easily satisfied with a lower quality water supply.
The company implement a full range of works from design installation to their operation. These works include assembly / installation supervision, start-up, staff training and service maintenance during the warranty period and after-sales service terms.