Metallurgy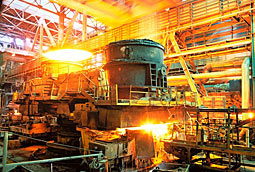 The mining and metallurgical industries are two of the major water consumers:
iron and steel works
coking plants
minimetallurgical plants
foundries
ferroalloy plants
ore concentrating plants
Facilities requiring water treatment include:
power generating equipment (hot-water and steam boilers), heat and power station
process water supply including water intake
cooling circuits
drinking water supply
waste water
The water facilities of iron and steel plants are interconnected with municipal services because they have common a water supply, common heating and domestic waste water channels.
Requisite services include:
| | |
| --- | --- |
| | water treatment (sea water desalination, partial and deep desalination) for power generating equipment (feed water preparation for steam and hot-water boilers, waste heat recovery boilers), the greater part of manufacturing equipment of galvanic, plate rolling and tube-rolling processes; |
| | filtration and cleaning of recycled water |
| | feed water preparation |
| | development of water treatment systems of the various production and enterprises (incl. zero-discharge WTP) |
| | stabilization water treatment with chemical and nonchemical methods to prevent sedimentation and corrosion formation; adjustment of reliable water chemistry of the cooling systems, heat supply system and boiler equipment |
| | waste water treatment of oil emulsion, saline, SAW- and chromiferous water; full elimination of the liquid discharge; reduction of the source water consumption. |
Depending on the desired quality and requirements of the water, the company can apply modern and conventional water treatment technologies:
Chemical Treatment (coagulation, flocculation, soda liming)
Filtration on sediment, screen, cartridge and bag filters
Ultrafiltration
Reverse Osmosis and Nanofiltration
Electrodeionization
Ion-Exchange technology
Membrane Degassing
Treatment in the field of gravitational forces (sludging, centrifuga, slurry decantation)
Reconstruction and audits are carried out for existing water industry objects. Basic principles of decision making are: power efficiency, adoption of new efficient technologies, minimal ecological impact (Kyoto Protocol adherence).
LLC "HydroTech Engineering" Co Ltd performs a wide range of water treatment works on metallurgical enterprises:
| | |
| --- | --- |
| | process design, basic engineering, complete design (technical and economic assessment, development project, detailed engineering ); |
| | Pilot project testing; |
| | equipment manufacturing and supply; |
| | construction, assembly, commissioning and start-up; |
| | staff training and service maintenance; |
| | construction on turn-key basis of water industry objects; |
| | construction on turn-key basis of small-scale metallurgical plants. |